| | | |
| --- | --- | --- |
| | Cam's Arcade Page | |
This is a page dedicated to arcade games (and the ones I currently own as of the writing of this page). If you're looking for informational articles on how to hack Pac-Man, click here. For a fun page on Pac-Man trivia, click here.
---
Boards
Crazy Kong (Orca boardset)
Crazy Kong Part II (Falcon board bootleg running flipscreen/high score save mod available here)
Ms. Pac-Man (2-board Puckman Bootleg) (Orca bootleg boardset running Ms. Pac-Man boot6 software)
Puckman (Pac-3 bootleg)
Pac & Pal (Super Pac-Man board mod) (Midway boardset running Pac & Pal software patched by Vernon Brooks)
Mr. Do's Castle
Gamma 9-in-1 (early 2000s predecessor to the Arcadeshop Programmable PCB, running Pac-Man, Ms. Pac-Man, Jr. Pac-Man, Galaxian, Galaga, Frogger, Dig Dug, Donkey Kong, and Donkey Kong Junior)
Vs. Top Gun (for eventual conversion into Vs. Castlevania)
Barracuda (Pac-3 bootleg) (Pac-Man bootleg using Hanglyman maze and Piranha graphics)
Jr. Pac-Man (original Midway "Field Kit" board, missing metal standoff plate)
Bomb Jack (Tehkan boardset, "Bomb Jack (Set 1)" romset)
Gaplus (Midway board, "galaga3c" romset in Mame but with Gaplus title logo... really wish this had a freeplay hack)
Return of the Invaders (bootleg boardset, unknown manufacturer, verifies in Romident as "Return of the Invaders (Bootleg Set 2)")
Nebulous Bee
Donkey Kong Junior (one Nintendo CPU parts board, one complete bootleg boardset)
Xexex
Bobble Bobble (Bubble Bobble bootleg)
Red Clash (bootleg boardset, completely dead)
Ms. Pac-Man ("Made in Greece" bootleg, jailbars in video signal)
Pac-Man (Midway version, parts board)
Mr. Do (broken audio)
Mr. Do (bootleg, completely dead)
---
Machines
Pac-Man (Midway, dedicated, completely original- running "Atlantic City" mod chip)
Street Fighter II: Hyper Fighting (Dynamo cab with black and red "CHAMPION EDITION" aftermarket marquee)
Devil Fish (Glak cabinet)
Spiders
Namco Classic Collection Vol. 2 (Dynamo cab)
OutRun (any version)
Space Harrier (deluxe cab)
Neo Geo MVS (1-slot or 2-slot preferably, with Bust-a-Move, World Heroes, or Ronald McDonald marquee)
Mr. Do (red marquee version)
Universal Mr. Do cabinet (for my Mr. Do's Castle board and marquee)
Midway cabaret (for conversion into a Jr. Pac cabaret using my existing board and cabaret marquee)
Millipede (with Multipede mod)
Congorilla
Bosconian
Dig Dug
Violent Storm
Sega Astro City
---
Projects
Pac-Man cocktail bulletproofing (replace all caps on monitor and board, replace sockets with high quality gold dual-wipe sockets, replace joystick grommets and top glass)
Stern Scramble upright restoration (sand and repaint stenciled artwork with color-matched paint, install new bezel, marquee, control panel, harness, speaker, and Scramble PCB... I don't even like Scramble...)
Space Invaders cocktail conversion (replace control panels with Scramble cocktail panels, install GroovyGameGear LeafPro sticks and Classix buttons, install 19 inch color monitor, install black CPO and wire for JAMMA
Super Pac upright to "Ms. Pac/Galaga Reunion" conversion (install new control panel with new CPO, new marquee, new bezel, etc. Either paint sides black with yellow t-molding or do the inverse with yellow sides and black t-molding- the latter would look sharp as a Jr. Pac conversion honestly, but the parts are so hard to buy)

Giving up on the two above striked-out projects- the Space Invaders cocktail I might convert into a Galaxian Part X, and the Super Pac I'm going to convert into a Jr. Pac with Pac & Pal inside on a switcher.
---
Parts & Miscellaneous
Ms. Pac-Man daughtercard
Mr. Do's Castle NOS marquee (fits dedicated Universal cab, as far as I can tell)
Jr. Pac-Man cabaret marquee (made of heavy glass, almost perfect condition)
Assorted joysticks, buttons, and other junk I don't know what to do with...
---
Links & Other Useful Stuff
ARCADE HACKS
Phozon English Hack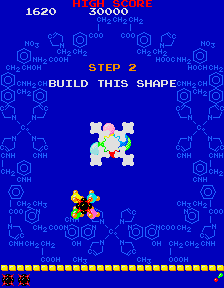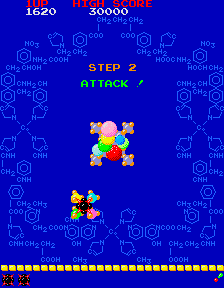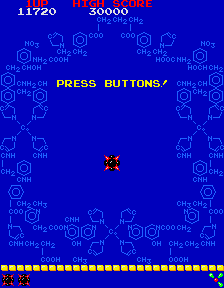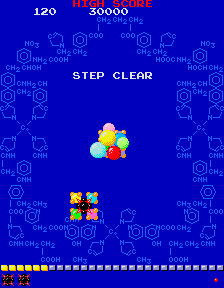 The original arcade version of Namco's "Phozon", hacked into English (using the official translation taken from Namco Museum Vol. 3 on the PS1). This was a major pain in the ass. I could go into more detail about how it works but as of the time of me writing this I feel exhausted just thinking about it.
---
MY ARCADE SPIRIT BURNS ETERNAL LIKE HOT COPPER COILS
HIGH VOLTAGE MEGASHOCK SURGING THROUGH MY VEINS
THE JOYSTICK AND BUTTONS ARE ONE WITH ME
THE CHARACTER I CONTROL AN EXTENSION OF MY SOUL
MY SYNAPSES PULSE WITH ELECTRIC MUSIC
ECHOING IN MY HEAD LONG AFTER THE GAME IS OVER
---
I LIVE TO PLAY AND PLAY TO LIVE
AND WHEN I'M DEAD AND GONE
DROP IN A QUARTER AND PRESS START
I'M THERE TO CHEER YOU ON