| | | |
| --- | --- | --- |
| | Cam's Arcade Page | |
This is a page dedicated to arcade games (and the ones I currently own as of the writing of this page). If you're looking for informational articles on how to hack Pac-Man, click here. For a fun page on Pac-Man trivia, click here.
---
Updated April 21st, 2022
Boards
Donkey Kong Junior (with Braze DK JR. high score save kit)
Shaolin's Road (bootleg)
Crazy Kong (Orca boardset)
Crazy Kong Part II (Falcon board bootleg running flipscreen/high score save mod available here)
Ms. Pac-Man (2-board Puckman Bootleg) (Orca bootleg boardset running Ms. Pac-Man boot6 software)
Puckman (Pac-3 bootleg)
Pac & Pal (Super Pac-Man board mod) (Midway boardset running Pac & Pal software patched by Vernon Brooks)
Mr. Do's Castle Sold April 2022
Gamma 9-in-1 (early 2000s predecessor to the Arcadeshop Programmable PCB, running Pac-Man, Ms. Pac-Man, Jr. Pac-Man, Galaxian, Galaga, Frogger, Dig Dug, Donkey Kong, and Donkey Kong Junior)
Vs. Top Gun (for eventual conversion into Vs. Castlevania)
Barracuda (Pac-3 bootleg) (Pac-Man bootleg using Hanglyman maze and Piranha graphics)
Jr. Pac-Man (original Midway "Field Kit" board, missing metal standoff plate) Metal standoff plate obtained!
Bomb Jack (Tehkan boardset, "Bomb Jack (Set 1)" romset)
Gaplus (Midway board, "galaga3c" romset in Mame but with Gaplus title logo... really wish this had a freeplay hack)
Return of the Invaders (bootleg boardset, unknown manufacturer, verifies in Romident as "Return of the Invaders (Bootleg Set 2)")
Donkey Kong Junior (one Nintendo CPU parts board, one complete bootleg boardset)
Nebulous Bee (shorting out)
Xexex
Bobble Bobble (Bubble Bobble bootleg)
Red Clash (bootleg boardset, completely dead)
Ms. Pac-Man ("Made in Greece" bootleg, jailbars in video signal)
Pac-Man (Midway version, parts board)
Mr. Do (broken audio)
Mr. Do (bootleg, completely dead)
---
Machines
Pac-Man (Midway, dedicated, completely original- running "Atlantic City" mod chip)
Street Fighter II: Hyper Fighting (Dynamo cab with black and red "CHAMPION EDITION" aftermarket marquee)
Devil Fish (Glak cabinet)
Spiders
Namco Classic Collection Vol. 2 (Dynamo cab)
OutRun (any version)
Space Harrier (deluxe cab)
Neo Geo MVS (1-slot or 2-slot preferably, with Bust-a-Move, World Heroes, or Ronald McDonald marquee)
Mr. Do (red marquee version)
Universal Mr. Do cabinet (for my Mr. Do's Castle board and marquee)
Midway cabaret (for conversion into a Jr. Pac cabaret using my existing board and cabaret marquee)
Millipede (with Multipede mod)
Congorilla
Bosconian
Dig Dug
Violent Storm
Sega Astro City
---
Links & Other Useful Stuff
ARCADE HACKS
Phozon English Hack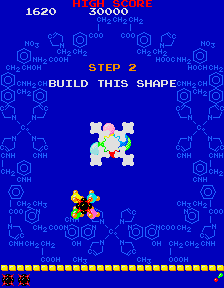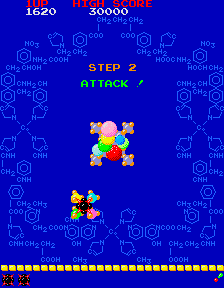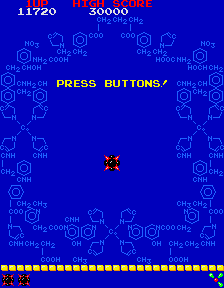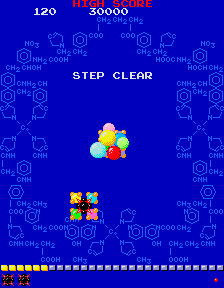 The original arcade version of Namco's "Phozon", hacked into English (using the official translation taken from Namco Museum Vol. 3 on the PS1). This was a major pain in the ass. I could go into more detail about how it works but as of the time of me writing this I feel exhausted just thinking about it.
---
Building a Power Block
This is a bit of a convoluted mess, but bear with me. I'm gonna attempt to explain my experience building a power block using the Bob Roberts AC Wiring writeup.
To break this down into simple terms, you need the following:
3/4 thickness plywood (cut into a 10x10 or 12x12 inch square)
A Happ PowerPro switching power supply
An EMI filter
An isolation transformer
18AWG wire in whatever colors you choose
Cable clamps
A cordless drill
A wire crimping tool
A soldering station and solder
Various flavors of Molex connectors with male and female pins

---

MY ARCADE SPIRIT BURNS ETERNAL LIKE HOT COPPER COILS

HIGH VOLTAGE MEGASHOCK SURGING THROUGH MY VEINS

THE JOYSTICK AND BUTTONS ARE ONE WITH ME

THE CHARACTER I CONTROL AN EXTENSION OF MY SOUL

MY SYNAPSES PULSE WITH ELECTRIC MUSIC

ECHOING IN MY HEAD LONG AFTER THE GAME IS OVER

---

I LIVE TO PLAY AND PLAY TO LIVE

AND WHEN I'M DEAD AND GONE

DROP IN A QUARTER AND PRESS START

I'M THERE TO CHEER YOU ON